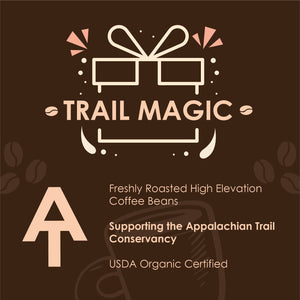 INTRODUCING: TRAIL MAGIC BLEND
Freshly Roasted High Elevation Coffee Beans
Supporting the Appalachian Trail Conservancy
The Appalachian Trial, or AT, is cared for by the non-profit Appalachian Trail Conservancy (ATC), so I thought it would be fitting that a portion of all revenue from this blend should be donated to the ATC.
If you aren't familiar with the term, Trail Magic is an unexpected gift when hiking, especially when long distance hiking like the Appalachian Trail.  It could be a ride into town, a bottle of water, a cold beer, some snacks, etc.  A memorable experience for me, personally, was when I was hiking the Appalachian Trail from the Peters Mountain Wilderness (on the VA/WV line, West of Roanoke) into Pearisburg, VA and a group of Girl Scouts was handing out sleeves of cookies to the weary hikers.
I've worked with my wholesaler, Café Imports, to find a great blend of beans that come from high elevation regions and are USDA Organic.